The Journal of Business Chemistry – Five issues of covering the latest trends in research and practice
While chemistry has never been short of inventions,the commercialization of these inventions into innovations requires a completely different set of skills. Many of the problems occurring in this process no longer deal with natural sciences alone but are rather related to topics from the field of business administration. However,natural scientists often lack a profound economic knowledge,while at the same time economists rarely understand the chemistry behind the business. Against this background, the Journal of Business Chemistry (JoBC) was founded in 2004 to serve as the next step of academic progress within the field of business chemistry.
As frequent readers might have noticed,the fifth volume of the JoBC's printed edition appears in a completely new layout. We would like to take this opportunity to highlight some of the recent developments around the journal.
Offering a discussion forum for researchers and practitioners from different backgrounds, the journal attracts readers from all over the world, as illustrated in Figure 1.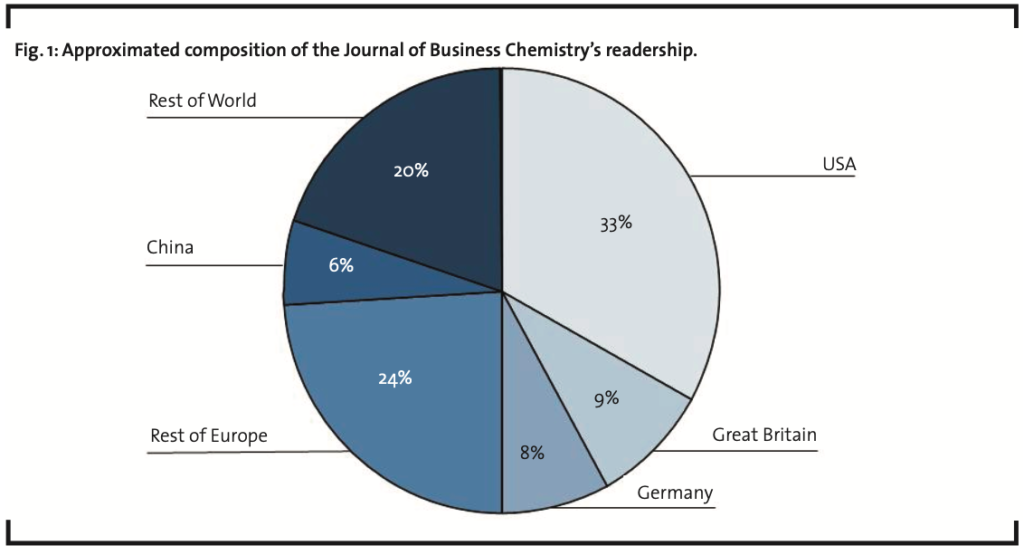 The Journal of Business Chemistry mirrors the whole diversity of the field of business chemistry as the list of all articles published so far shows (see below).
At the website "www.businesschemistry.org", all issues of the JoBC are available for download free of charge to offer a fast and convenient access to newest research insights. Several hundred visitors of the website each month demonstrate the demand for a medium that addresses questions at the intersection of business and chemistry.
We believe that the still very young research field of business chemistry will continue to grow in importance, as the increasing specialization in all parts of the economy calls for interdisciplinary approaches to solve complex problems. With the Journal of Business Chemistry, researchers and practitioners from the chemical and neighbouring industries have a platform to share and discuss new insights into research questions from the field of business chemistry.
We would like to thank all authors and reviewers for their contributions. Now enjoy the new layout and reading the first issue of the Journal of Business Chemistry in 2008. If you have any comments or suggestions, please send us an email at contact@businesschemistry.org.